The beliefs and values of America's Founding Fathers are the basis of liberty and hope for the future generations of the world.

"Symbolically, the Great Seal reflects the beliefs and values the Founding Fathers attached to the new nation and wished to pass on to their descendants." US State Dept. 2003

Are you uncomfortable with the direction the world seems to be taking America? Are you sensing, that we as a nation have lost our moorings; being blown about; helplessly adrift; our leadership light dimming? The Founding Father's Great Seal serves as a beacon to guide us back to the enduring harbor of 1776. Join others in one or all of the following programs to rescue America's national emblem from obscurity by establishing June 20 (the day in 1782 congress approved its design) as National Great Seal Day; to pass on to our descendants!Click on the images below to learn more.

| | |
| --- | --- |
| | The obstacles are too great; the culture is too far removed from its founding heritage for American Great Seal Foundation to achieve its mission...so say some. Don't be intimidated; with prayer, all things are possible! Join in prayer for the happiness of our nation and the success of our mission. Every heartfelt prayer counts. CLICK HERE TO JOIN IN. |
| | |
| --- | --- |
| | America is divided into about 3000 counties. Most counties have an annual fair offering youth an opportunity to publicly display children's craft. The Seal 3000TM program seeks and trains patriotic adults in each county to teach children the meaning of the Great Seal and assist them in the completion of a patriotic artwork intended for temporary public display and later awarded to a deserving individual or organization for permanent display. If you are an American patriot with the heart of a teacher or youth leader CLICK HERE. |
| | |
| --- | --- |
| | Twice the youth of America worked to save the world from tyranny by gathering recyclable materials to support their military family members defending America's beliefs and values during WW I and WW II. The Great Seal Crusade program is designed for modern youth to once again join in the defense of American beliefs and values ; the basis of our national motto: In God We Trust. Your patriotic efforts to defend America will not go unrewarded. CLICK HERE to learn more about becoming a Great Seal Crusader. |
| | |
| --- | --- |
| | Artists tend to be spiritual. They reach for something deeper than the obvious and express their discovery in a wide range of media and upon innumerable objects; from sidewalks to skyscrapers. The PatriArtsTM program directs the artist of all ages to images used by America's Founding Families to express their beliefs and values. Artistically integrating those images into objects common to person, home and workplace reinforces America's foundation and secures her future. CLICK HERE to learn how your art can help preserve America. |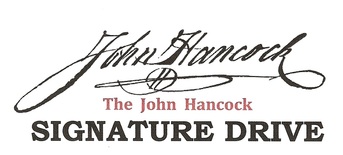 Do you stand by those America's Founding Families, who mutually pledged their lives, fortunes and sacred honor to establish the greatest nation in human history? The John Hancock Signature Drive enables modern patriots to secure the endorsement of others in order to preserve the national heritage America's Founding Families fought so hard for; and following generations suffered to preserve. CLICK HERE to join in the fight to preserve our national heritage.
---